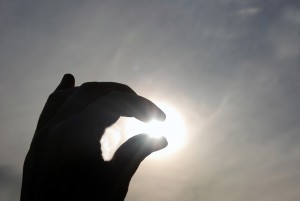 In the writing world, we talk a lot about how to make time for writing. We assure ourselves and others that even with a career, a spouse, a child and friends, we can still write, edit, polish and publish a novel. We have goal sheets, and word trackers, and schedules, and all the best intentions. And we do it. Somehow, with only twenty-four hours in a day, we even squeeze in a little time for sleep.
Last weekend, my father-in-law went into the hospital. It was for a routine surgery and he was supposed to be in and out of the hospital in just a couple of days. The doctors assured us they saw no reason it would be any more complicated than that and, being the optimist that I am, I believed them. My husband and I packed up the little one and stayed the weekend with my mother-in-law to be there for her and help take care of things while she stayed at his bedside. I brought along my writing things so I could make some progress on the preparations to edit my manuscript in our downtime.
The surgery was not routine and he was not out in a couple of days. There were some complications that kept him in the hospital an extra day, and then another one, and yet the doctors assured us he would be fine and I believed them. I continued to try to plug away at my writing goals when I had a few minutes to myself. Maybe this is why it took me so long to see that while I believed the doctors' optimistic assurances, no one else in my family did. It took me so long to finally see the look of torture in my husband's eyes and that with my mind in a million different places, I wasn't being there for him.
At that moment, my writing went from high on my list to low on my list. I dedicated my time to being with him and showing him I was on his side, no matter what happened. If I had time, I squeezed in a little writing after bed but many times I didn't and my goals rolled over from one day to the next. It stung for a little while. My writing schedule was getting painfully thrown off, but I knew how much my family needed me. It turns out, over the last few years, I'd been missing a lot of the things they needed from me.
A week and a half later, my father-in-law is still in the hospital and now I'm scared. I hold onto my optimism because I have to, but if I sit still for too long, reality crashes over me and it's hard for me to breathe. He gets better with each day but until he's back home and back to being the man who cooks me Eggs Benedict every Sunday morning with 50's music blaring through the house, my heart won't rest easy. And the hardest part is that it took this to realize how far my priorities have strayed. I had put desire to churn out a book every year before the commitment I'd made to my family so many years ago. I'd lost sight of how much they needed my full and undivided presence for longer than it took to eat dinner each night.
I still want to get my manuscript edited, and polished, and hopefully published one day. I still have writing goals and I still have a schedule. I still hope you'll work toward your dreams using any time you can. But don't forget how much the people you love need you in their lives…and what a blessing that is.