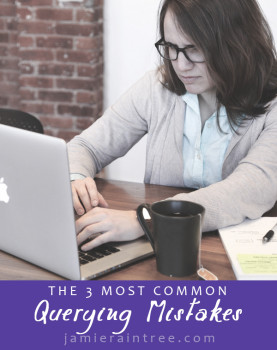 If I admit something to you, do you promise not to hate me? Here goes: I don't hate writing query letters. Okay, no, I'm not a total psychopath. I don't LOVE writing query letters or synopses (to be honest, bios are my weakness) but to me, it's not a painful endeavor like it seems to be for most writers. I think it's from years of blogging and writing web copy that makes it, if not a fun activity, a manageable one. My natural organizational tendencies also help me see order and create clarity.
Okay, now that my Type A is fully showing…
Combining the facts that I am fascinated by how business works (publishing in particular, since that is the business I'm in) and that I have been in many a critique and writing group, I have had the opportunity to read through quite a lot of query letters–giving feedback on them and better understanding what makes a query letter clear and intriguing and what has me asking the wrong questions. Like instead of, "I wonder how the character gets out of that!" I ask, "Huh?"
There are a few things I notice most often when I'm critiquing a query letter and I thought I'd share them with you today in case it's about that time for you to start expanding your career–a most exciting time!
1. Not following the Submission Guidelines for the agency you're sending it to.
It really kills me that this is the first one on my list because to me it seems like such an easy thing to do! But according to agents I've heard from online and at conferences, this is the number one reason they reject a query. I once attended an agent-led workshop at a conference, and while the title of the workshop was something along the lines of How to Successfully Query, her entire presentation was about following submission guidelines. I kid you not!
Here are a few things to look out for:
Make sure the agent represents the genre you are sending them. I promise you, you won't change their mind by how amazing your story is. They represent certain genres because those are the contacts they have within the industry. They won't know what to do with a genre outside of theirs, which only wastes their time and yours.
Always put QUERY in the subject line of your email so you don't get sent to spam (they have filters set up so they don't get spammed themselves) and paste your query directly into the body of the email (they won't open attachments so they don't get a virus).
Many agents are now asking for sample pages right within the query. This is very exciting for those who struggle with the query! Make sure you look for how many pages each agent wants and also post those directly in the body of the email.
There are more common guidelines but these are the most important!
2. Your query doesn't answer the basic questions, or is confusing.
The next most common mistake I see is that the author simply has a hard time getting their point across. I get it. I always joke about synopses that if I could say what I wanted to say in a single page, I wouldn't have written an entire book! It's hard to narrow down what is most important to the story, or to say enough to create intrigue but not confusion. Where do you draw that line?
Unfortunately, that isn't something you can often decipher for yourself so this is where having a critique partner–or preferably, multiple partners–is so vital. You especially want critiques from people who haven't already read your book and so they won't subconsciously fill in the blanks. The more eyes you get on your query letter, the better.
3. The most important story elements aren't clear.
Lastly, you want to make sure all the story elements are there. Some writers make the mistake of giving the agent a broad overview, or a ode to the theme of their story. What agents really want to know, though, is What happens in the story? What is actually on the page?
To write a successful query letter, you want to make sure you introduce your character in a compelling way–remember, agents need to be drawn into following your character for 300+ pages. What does your character want? Why do they want it? What is in their way? If you answer these questions, the plot of the story will naturally unfold in your synopsis.
I know this is a lot to accomplish in a single page, but it can be done! If you'd like to delve deeper into each of the elements, if you'd like to check out the query letter that landed my agent, or if you'd like me to give you feedback on your query letter, be sure to check out my Write a Successful Query Letter Workshop happening now! And I wish you the best of luck in partnering with the right agent for you!
Do you hate writing query letters? If you've already started querying, how has the process gone for you? Do you have any other query questions?

Download Free Copy of "The Call" Worksheet
Have you already started querying? Want to be prepared for the next step–an offer of representation? Get my FREE worksheet with the questions you want to make sure you ask an agent before signing with them. To get your copy, subscribe to my newsletter and download it now!