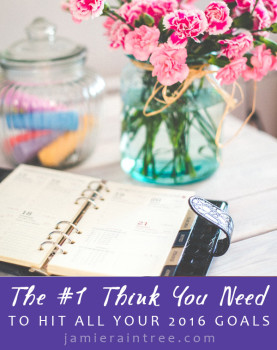 Happy New Year and welcome to 2016! "New year, new you," right? Ha! I wish it was that easy. If it was, I could just sweep away all the struggles, all my bad habits, and all the insecurity I carry around at the beginning of each new year. Trust me, I've been trying every year for the last decade or so and while I might be able to ignore those things for a few weeks, they always come creeping back in to sabotage even my best-planned goals. Maybe you've experienced this too?
No, we can't entirely sweep the slate clean but here are a few things we can let go of: last year's failures, mistakes, and disappointments. Yes, they were painful and sometimes debilitating, but it never benefits us to hold onto them. We should probably let them go a lot sooner, but if we can't do that, the new year is a good time to consciously release them. Things will not always go smoothly–that's life. There's no point in beating ourselves up about it. Moving forward!
And here are a few things that really can be new: new enthusiasm, new goals, and a new level of determination. No, it isn't easy, but yes, it's absolutely possible to wake up on January 1st and say, this year, I will hit the goals I set for myself or lose my hair trying. It can't be that easy, can it? Well, no, not exactly. Because in order to make this work, you have to do it every single day for the entire year.
Which gets us to the title of this post. The answer? Commitment.
When We Lack Commitment
Speaking from my own experience and that of running many, many writer's groups, a lack of commitment is the #1 reason I have failed in the past and the reason I have watched others fail in reaching their goals. It breaks my heart every time. You know by now how much I love setting goals and how much I love seeing others set goals. I want us all to reach every one of them, so much so that I have researched for years that art and science of goal setting, from being S.M.A.R.T., to getting behind the psychology of why we want what we want, to creating the most ideal schedule to max out our efficiency.
What I found is that all of those things are great. Fantastic, even. But they mean absolutely nothing if there is no true, deep-down-in-your-bones commitment.
Let me share an example.
This summer I signed up to do Camp NaNoWriMo. (Oh, for heaven's sake, is she talking about NaNo again? YES.) I was excited. I'd done NaNoWriMo for six years previous to signing up and it's always been an amazing experience for me–I hit the 50,000 word goal every time. For Camp, I connected with people from my online writer's group and we created cabins together to cheer each other on. I knew what I wanted to write and since I'd recently finished edits on my first novel, I knew it was time to get moving on another project.
I literally wrote one day out of the month. One.
Why? I wasn't fully committed. For one, the event is smaller and I think being in contact with only a small group of Wrimos lets a bit of air out of the collective enthusiasm that makes NaNoWriMo proper so effective. Second, though, is that I don't think I was emotionally ready to dive into drafting again. So while I was 100% logistically prepared to hit my moderate 30,000 word goal, I didn't even scratch the surface.
Changing the Game
Fast forward to November and it was time to participate in NaNoWriMo again. I was understandably nervous after failing miserably during the summer. I'd never before missed a 50,000 word goal and I knew I would feel awful if I broke my streak. I decided to work on a new project in a completely different genre than I usually write and I did almost no plotting beforehand, which is very out of the ordinary for me.
And how did it go? I nailed it.
The difference? I was committed. I didn't want to let myself down and that meant that I was committed to do absolutely whatever it took to succeed. I simply wouldn't allow myself to fail. When you reach that level of commitment, you can and will move mountains to make it happen.
Committing to a Productive 2016
So take a look over your goals and resolutions for the year. As you read through them, which of them are you absolutely, irrevocably committed to? Which ones will you do absolutely anything to bring to fruition? And which ones feel more like hopes and wishes? Already, at the beginning of the year, you can see which goals you're going to be successful in and which ones you aren't. Because it isn't luck or happenstance that will allow you to reach them, it's your level of commitment.
The good news is, it's still the beginning of January. You can get truly committed right now and still have the entire year ahead of you. So let's do it. Here's how:
1. LET GO OF THE GOALS YOU DON'T REALLY CARE ABOUT!
I seriously hate, hate, hate the word should. If you are "should"ing with any of your goals for whatever reason, but you feel no passion for it, let it go right now. All it's going to do is set you up for failure and drag you down on the goals that you really do care about, sucking away your time and confidence in yourself. Out with it!
2. CONNECT WITH YOUR MOTIVATION FOR EACH GOAL.
Why do you want to accomplish this? How will it move your toward the overall goals you have for your life? Give the goal true meaning in the context of your big picture dreams and you're more likely to achieve it.
3. FACE THE CONSEQUENCES OF NOT REACHING YOUR GOAL.
What will it mean if you don't reach your goal? If there is no real consequence, you're less likely to stay committed. The unfortunate truth is that people are more often motivated by negative consequences than positive ones. Yes, that's a pretty crappy way to move through the world, unless you learn to make it work for you. If you don't see any real negative consequence–if you aren't hanging future success and happiness on making it happen–either this isn't the right goal for you, or you need to create a consequence. You need to go all in.
4. GET SUPPORT.
Even the most committed people will struggle. Often daily. Having people around you that have your back and will lift you up on the down days is the secret weapon to being successful. No goal is accomplished alone.
I truly hope each and every one of you reaches all your goals this year! I hope you make the commitment right now. If there's anything I can do to support you, please feel free to reach out to me on Facebook or by email any time!
And if you'd like some more help in getting clear on what your goals actually are, for your career, for your writing, and for this year, I am hosting an online workshop later this month called Design a Writing Career You Love and I would love to have you there! You can find out more information on the workshop page.

What are your goals for this year? Are there any that you are reevaluating after reading this post?