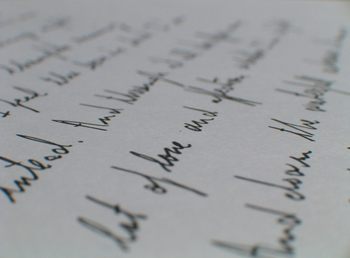 Yesterday on Better Writing Habits, Suzannah Windsor Freeman posted Forget These 7 Things for First Draft Freedom. Among other things, the list included grammar, spelling, transitions and word choice. The task was: When you start writing the first draft of your next work-in-progress, challenge yourself to just write, and leave these details for future drafts.
I have a love/hate relationship with the first draft, which I am on the front lines of with my current novel. On one hand, being forced to stand face-to-face with my own shortcomings is nothing less than depressing; on the other hand, the first draft is where all the magic happens. It's exciting to watch the story unfold before me and take turns I never expected and I love getting to know the characters for the first time. Nothing kills that magic faster, though, than getting caught up in the mechanics. That's why I love Suzannah's advice. When writing my first novel, before I trusted myself, it was too easy to get caught up in the little details, but this time I do trust myself so it's easier to let go and enjoy the process. Suzannah talks about what to forget so here are some things to remember:
All first drafts suck. Yep, even that published one sitting on your nightstand. The author of that novel once cringed at his or her own words. Every writer starts exactly where you are now. Instead of getting hung up on it, enjoy it.
Focus on the feeling. Get out of your head and into your heart. Don't worry about what it sounds like or how cleanly it reads–connect with the scene and feel the emotions of your characters. It's easier to describe the feeling of a pounding heart when you're experiencing it.
Don't be afraid to embrace the unexpected. Sometimes your story might go in a direction you didn't plan. That's your muse talking. That's your writer fuel. Listen to it.
Your characters are people too. Make friends with them so they become fully formed people in your mind. Take them with you wherever you go and let them react to everyday situations. It will help you get to know them better.
The end will come. As long as you keep writing one word after another, for better or for worse, the end will come.
And one more general rule: always, always carry a notebook with you. Inspiration will you strike you at the most unexpected times.
The first draft is a gift to writers if we can learn to accept it. Only through facing our shortcomings can we ever overcome them and the first draft is your crash course. That's the magic of it.