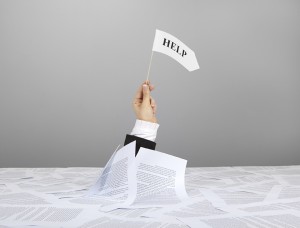 Earlier this week, I decided to quit writing. Things in my personal life had come to a breaking point and trying to find time to write only seemed to be making it worse. A couple of my writing friends blogged about how negative people can be to one another, bringing up those old fears of publishing. And, worst of all, my story was falling apart.
Have you ever gotten to that point when everything you thought you knew about your novel seemed completely wrong? I'm sure everyone who has stared rewrites in the face has felt this and everyone of them had thought about quitting too. It's hard to give up that freedom of the first draft–the draft that's just for you, that is nothing but your vision–to face the cold, hard reality that one day someone will read this and it should probably be somewhat interesting. I had fallen in love with my original vision and I wasn't ready to let go.
But I knew changes must be made. I even knew what changes needed to be made but they went against the mood of the story I had set out to create. They made my characters look so much worse than I wanted them to. And I was still being pretty nice. I sought out help, from my beta reader and my critique partner and my writing group friends. I told them what my manuscript looked like now and the changes I wasn't sure I wanted to make. I wanted them to tell me that I should leave it the way it is. That it's perfect already and they would love to read it. That's not what they told me. They said they loved the new ideas I had. They said the changes were necessary.
(Which leads me to a side note: if you think something needs to be changed, you're probably right. Asking other people for advice will only confirm what you knew all along.)
But my writing friends, the ones who know what they're talking about, wanted me to push it even further. They told me even with the changes, I was still being too nice to my characters. Me? Nice? After everything I'd already done to her? They gave me suggestions on how I could put my characters in even more danger, more pain. I shuddered. I cringed. I couldn't do it!
I decided to stop writing.
The decision came in the middle of the night after yet another hard day of bad news. It seemed I was still struggling to find enough balance in my life. And reading about the things my friends were going through, the way people had treated them so harshly, made me want to cry. And the story I had molded and shaped and loved had disappeared in a puff of smoke. Why I am doing this, I asked myself. Writing takes up so much time in my life and at the end of the road, I'll be faced with the toughest critics with no way to go back. If I can't face that, how do I expect to be published? And if my goal isn't to get published, who will read my stories? And if no one reads my stories, what's the point of giving up the time I could be spending with my family? Is it worth it?
I thought long and hard about pulling my storyboards down but I forced myself not to make that decision when I was upset. The next morning, I still felt like I couldn't pick up a pen so I busied myself with other things. Around the time I normally would have started working on my novel, I looked over at my laptop and left it sitting there. That night, I told my husband I didn't think I could do it anymore. I told him about all the things I was thinking and my husband–straight-forward guy that he is–said, you'll never know if you don't try.
So many times I had heard people talk about being afraid of success and I had no idea what they meant. Turns out, I am.
With my husbands words, he had taken away one of my problems. He wasn't asking me to give up my writing…he didn't even want me to. Some balance was restored.
The next day, I picked up my laptop again. I was still weary. I still didn't know what to do. I didn't know if there was a solution but I wanted to at least try. I pulled out all the notes people had given me. I pulled out all of my own notes. I waited until everyone went to bed, made myself a latte and holed up in my office, my novel playlist on repeat. I stared at my empty storyboards, then closed my eyes and listened to the lyrics, the thoughts running through my head, my character's feelings tugging at my heart. And then I started making notes. I filled up my white board and I filled up my cork board. When I ran out of room I grabbed my notebook and started sketching there. I organized my thoughts on my laptop. The songs in the background reminded me why I started writing this story in the first place.
Being so immersed in that moment, I began to see that everything my friends had told me was right. They encouraged me to make the changes I knew my story needed so I started there. They told me to push my characters further so I did. I pushed them further than I thought they could go. I noticed where conflict and motivation was missing and filled those things in. Everything was coming together but it still wasn't quite clicking in my heart. It still was nothing more than ideas crammed together. It wasn't my story.
I realized my subplots were multiplying so I decided to write them down so I could see exactly what they were. I stared at them (all 6 of them!) and wondered how I could maximize a few of them instead of spreading my story thin trying to fit in everything. And that's when it all clicked. I combined a couple of subplots to accomplish the same story goals but with only one context. And, miracle of miracles, it lined up with exactly the mood and tone I'd wanted from the beginning.
Eureka!
So I was going to quit writing (*snort* You didn't believe me, did you?) but it turns out I was just at that inevitable point between the first and second drafts when I realized my story had to grow. I had to grow. It was easy to let my fears get the best of me when it got hard, but it's pushing past that point that makes me a writer. It's that feeling of elation when the pieces of the puzzle fit together that keeps me going and reminds me why I never really give up.
What are your worst writing fears? When do they tend to come out to haunt you? How do you get past them?