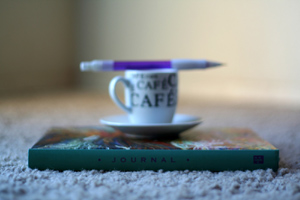 I get this feeling sometimes when I'm reading or watching a movie or even just living. This feeling is an ache; it's a tension in my chest. It screams to get out of me with no real focus of what or how, like trying to fit an explosion in the tip of a ballpoint pen.
Sometimes it's jealousy. Why didn't I think of that? Why couldn't I have had those words appear in my mind's eye so I could put them down and make someone else feel this way. Why am I the one who's jealous?
Sometimes it's a want for time, focus, the ability to take that ache and turn it into something beautiful. But it occurs in the middle of the night, nowhere near a keyboard, nowhere near consciousness.
Sometimes it's happiness to know that I can feel this way, and if I can feel this way, someone else can feel this way. One day I will have a thought, and I will put it down and one day someone will feel an ache because of my words.
It is the middle of the night as I write this. I had an ache. I woke up. I wrote it down. Because that's what I do. I'm a writer.