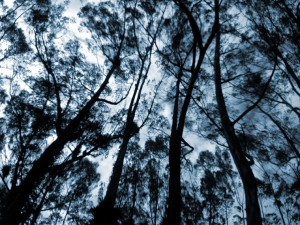 A writer's brain is constantly telling stories. It floats off into fantasy when we pass a homeless man on the street, or when we witness a marriage proposal or when our friends get divorced. Our brains go into overdrive wondering what could have happened, what will happen, where does it go from here? We tell ourselves stories. What if?
Just because we close our eyes, doesn't mean those stories stop. Many writers claim their dreams are their best material. In fact, I've heard three writers just this week talk about a dream that sparked the premise for their story and I'm amazed at how far they can take such a small detail, building an entire world around it. Maybe that's what got my subconscious mind working.
In My Dreams
Personally, I've never found my own dreams very reliable. They're often hard to follow and hard to remember and the times they stick vividly in my mind are usually the times I want to forget them.
Up until a couple of weeks ago, my conscious mind had a story to tell. It had a novel to finish and every spare moment it worked on it–building a plot, understanding the characters, filling in the blanks. What if, what if, what if? When I finished, my mind no longer had anything to consciously focus on. My novel was over and I had thoughts about a short story but nothing seemed to stick.
I think my conscious mind was lost because starting two nights ago, I have had the most detailed, vivid dreams that leave me breathless and lost in haze for hours after I wake and as I fill my writing notebook with pages of notes, I finally understand what it's like to be inspired by my dreams.
Use Your Dreams As Fuel
For almost a week now, I've been writing morning pages and when I wake up feeling this way, I pour myself into them. Every detail of the dreams and every feeling I've felt in response to them comes out on the page and I sift through them looking for the bits I can hold onto–the ones that will stick with me and make me remember that feeling. And I think, these are the moments I feel most like a writer, with the ideas flowing so quickly and so raw.
I've studied dreams for a couple of years now and (though I haven't had the energy or a full night's sleep for almost a year) I understand the meanings of dreams and how to remember them. You don't have to analyze your dreams to make them a part of your writing life. All you have to do is take what you need from them, what inspires you.
Remember your dreams by deciding the night before that you want to dream and you want to remember it. I know it sounds a little touch-feely but it works for me.
Keep a notebook by your bed and write down as much as you can as soon as you wake up. You fall out of the dream state so quickly once you gain consciousness. I'm sure you can remember times when you forgot the clearest dreams five minutes after you get out of bed.
Record how you felt about the dream. More than the meaning of the images or the players in the dream, how you felt about it is the most important part.
Like reading and writing, our dreams can be a powerful way to experience in our hearts things we'll likely never experience in real life and harnessing those ideas and questions and emotions is just another way to become stronger writers.