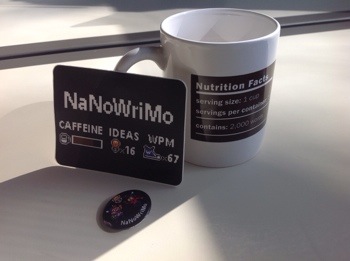 It's that time of year again! I can't believe this is my sixth year participating. I've actually been writing 50,000 words in November for so long that I forget what it's like not to look forward to it every year. Which is okay with me. I don't want to remember. I love that the change in seasons brings up memories of new characters and new stories and coffee and friends.
Leading up to NaNoWriMo this year, I did feel a surprising amount of indifference. I figure it's because I've become so used to participating and so confident in my ability to win that I didn't have any anxiety about doing it, but I haven't lost any of the excitement of hitting those word count goals, I can assure you. On Day 1 alone, I wrote 2,494 words! It felt good to be creating again after editing for so long!
This year I am writing an old new story. It's new in that I haven't written this book before, but it's old because I've been trying to write this story for years. I fact, it's the first novel I tried to write, and it's the story that got me my first heartbreaking criticism. I put it away because I didn't feel ready to write it then, but I think I'm ready now. It's tentatively titled, Counting Wishes and Horses and here's the synopsis:
A free-spirited college graduate returns to her family's vineyard to help her dad with an important business venture and to repair her relationship with her best friend when the man who broke her heart four years before reappears, threatening to pull her back into his orbit and away from everyone who loves her.
These characters are so much fun and I'm loving living in their world.
Yesterday I attended my first write-in and collected the NaNo gear pictured above. I'm obsessed with NaNo gear and already own a coffee mug, a travel mug, a poster, and an assortment of stickers so this was icing on the cake of a great word count day. I only wrote about 700 words on Day 2, but I more than made up for it yesterday with 2,933 words. Bring it on November!
If you're writing a novel this month too, I wish you the best of luck and I hope you'll hunt me down and challenge me to a word sprint!
6,113 / 50,000 (12%)