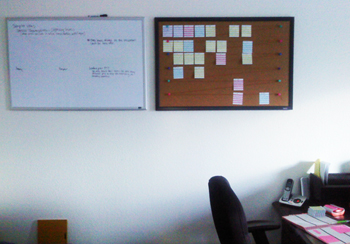 The National Novel Writing Month website has reset! I can't believe it's been an entire year since I last wrote these words. I'm so excited I feel like Daddy gave the t-bird back.
For those of you who don't know (you mean, you missed the last 50 blogs I've posted about NaNoWriMo?), I've been a NaNo-aholic since I first participated in 2008 and I've won both years with just over 50,000 words each. I intend to make it a third year running even if I do have Miss Will-You-Change-My-Diaper-Please this year. My husband doesn't know it yet but I've located a cave fifty miles from here that I will be retreating to for the month of November. And yes, it does have WiFi.
I'm a little late on the uptake, but I finally ordered my gifts to myself for winning last year. For 2008, I got the travel mug. For 2009, I got the Diner Mug (so I can now have writer fuel at home too) and No Plot? No Problem! written and autographed by Chris Baty (I promise not to sleep with it under my pillow. Okay, I don't promise.). This year, it will probably be the Let Your Imagination Rain Poster for my "office of inspiration". It has rain on it–you knew it would be mine eventually. If you love NaNoWriMo as much as I do, the NaNo store is great motivator to reach your goal!
So now that my NaNo profile is clean and pretty, it's time for this year's novel information. This novel means a lot to me as the idea was sparked by someone I care about. I'm really looking forward to writing it and I can't wait until November gets here so I can get started! As you can see, my note card outline is filling up quickly (pictured above)!
Who else is participating in National Novel Writing Month this year? Do you have a synopsis written? If so, post it here, link to your NaNoWriMo profile or post it on your blog to share with everyone! And don't forget to add me as your buddy on the NaNoWriMo site. I'll be watching your word count bar!
In case you missed them on my About page, here are some helpful NaNoWriMo links: