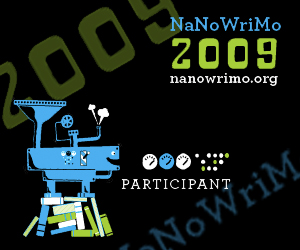 Tomorrow begins the final week of National Novel Writing Month and I have to say, it can't come soon enough! I love NaNoWriMo, you know this, but I am burnt out. My sleep habits are insane, I'm exhausted and my brain is mush. Wait for the post two days after NaNoWriMo is over, though, with me crying that I miss it already! 😛
I've had some great NaNoWriMo experiences this year. For the first time ever, thanks to the development of Twitter, our favorite people at the Office of Letters and Lights have been running NaNo words sprints, which couldn't be cooler! They allot a certain amount of time to write, tell us when to start, when to stop and after we finish, Wrimos from all over report in about how many words they wrote during the sprint along with the answer to whatever random questions the OLL team asks. It's a blast and a great way to boost the old word count. If you're participating in NaNo and want to sprint too, go to http://twitter.com/NaNoWordSprints.
I also went to my first NaNoWriMo Write-In! A write-in allows local NaNo participants to meet up in person to do word sprints, chat about their novels and share their NaNo experiences. I've been unable to go to one up until now because where I live, there aren't enough participants to get a group together but I went to a bigger town nearby this weekend and had the pleasure of meeting and writing with three other Wrimos. We probably did more talking than writing but I still got 1,100 words written in our two hours together. Not bad, I'd say. We had so much fun and with any luck, I'll get to see them again this weekend.
How's the novel going, you ask? That's an interesting story…. See what happened was, I went and saw a movie that made me realize that my story was so not working. Thirty-five thousand words in, I realized I needed to change the setting and because the male main character's job was directly linked with the setting, I had to change that too, and I decided that I wanted to start writing from his point-of-view as well. *sigh* So, I've been writing from the hero's point-of-view ever since, trying to get a handle on his new job and the new setting but so far, I think it's coming along pretty well. Once NaNoWriMo is over, I'm going to have a lot of editing to do.
Here's to the final week!
39,280/50,000 (79%)