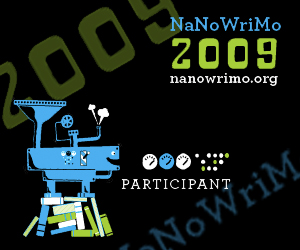 NaNoWriMo 2009 has started off with a bang. Author sign ups and site activity are breaking all previous records and by Chris Baty's last published account, Wrimos racked up over 4 million words in the first day! I'm proud to say that 2,639 words of those are mine.
I have to admit, after all my excitement, sitting down and writing those first words were incredibly intimidating. Last year, I had already begun my novel. I didn't count any of my previously written words in my final count but I was already in the flow of writing, I already knew where my story was going and I already had a good handle on my characters. This year I am starting completely fresh–not to mention that I haven't been in the habit of writing for several months. All I've been doing lately is editing. I was surprised at how quickly it came back to me, though. Once I got started, it was like riding a bike.
Getting to know new characters are like getting to know new friends and already, I'm falling in love with the older Japanese father-figure in this book. I'm really looking forward to seeing how he develops the story and points my main character in the right direction.
2,639/50,000 (4%)
Wrimos out there, have you started your novel yet? How's it going so far?