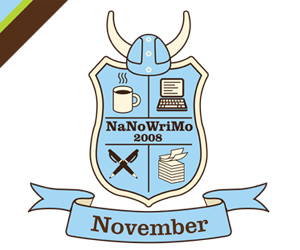 I'm on the other side of the hump now. I'm still holding onto my cushion so I'm a couple days ahead on my word count but it's still such a relief to see the light at the end of the tunnel. I knew this was going to be a challenge but I didn't realize it was going to be so hard to keep up every day!
So far the process is going very well! I just completed the end of Act II so now all I have left is the end–Act III. I really can't believe it! I'm within bounding distance of finishing my novel!
The little bit I just wrote marks the end of the final turning point of my story! I'm already starting to feel the beginnings of post-partum and I haven't even finished yet!
My word count as of yesterday is, drum roll please, 28,312 words!
28,312 / 50,000 (56.6%)
Wish my espresso machine luck as I stumble to the end of November! I miss sleeping!