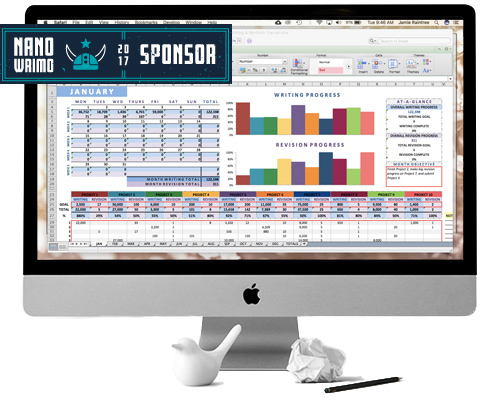 Writers, track your progress…
AND FINISH YOUR BOOK!
Track your writing and revision progress for daily, weekly, monthly, and annual totals for up to 10 projects! Set month and year goals for each project!

As a certified NaNoWriMo-aholic,
I could never get over the letdown I felt at the end of November when I no longer had a writing stats page to input my word count and watch my progress graph grow.
For me, having a visual of how much I was accomplishing has always led to the motivation I needed to create even more progress.
So in 2011, I went about creating my own motivation and the Writing Progress Spreadsheet was born.
I shared it with a few friends and before long, hundreds of writers were using it, loving it, and thriving under the accountability and intrinsic rewards it offered.
Over the years it has evolved based on requests from users to include more projects, revision tracking, and goal setting.
If you want the accountability and motivation of National Novel Writing Month all year long, check out the features of the Writing & Revision Tracker.
What Others Have Said
The Spreadsheet Includes
Daily, weekly, monthly, and yearly writing statistics for up to 10 projects.
Customizable project names.
Monthly goal setting for writing and revisions for each project, as well as a written overall focus.
Project goal setting.
Visual calendar layout that automatically calculates your day, week, and month totals. Weeks start on Monday.
Revision tracking by word count or page number.
Graphs to display your progress toward your monthly writing and revision goals.
Year totals for each project.
A writing and revisions grand total for the year.
Also works in Numbers for Mac users and, so far, any other spreadsheet program. Track on your phone with the Excel or Numbers apps.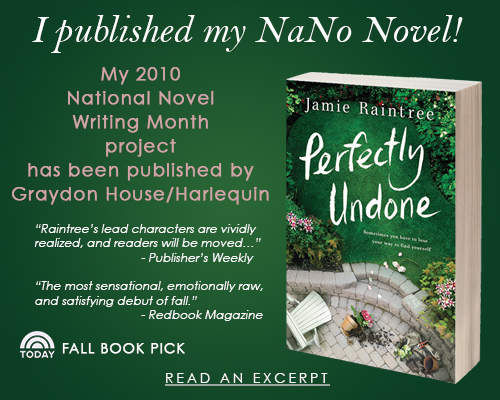 Get Your Copy
$10
F. A. Q. s
How do you track revisions?
The short answer is: however you want!
Personally, I track the number of pages revised. Other people have told me they track words subtracted so you may use a negative number, or you may track words added. I've also had other writers tell me they have an equation for how they come up with their number, which you could play around with. So it's really up to you and what works best for how you revise.
The only important part is that you stay consistent with your tracking method for all projects throughout the entire year so your year totals are accurate.
Can I add more projects?
Unfortunately, no. There is a lot of coding that goes into each every cell that create the calculations you know and love. While it is possible to add more cells to enter your daily word/page counts into, those totals will not be added to your day, week, month, or year totals.
Can YOU add more projects?
This is my most popular request each year because you all are so darn productive! (Which I love.) At this point, however, it is unlikely I'll be able to fit any more projects into the spreadsheet without having to scroll horizontally, which would make the spreadsheet clunky and less user-friendly. I recommend grouping smaller projects like short stories, blogs, essays, poems, etc. into one project.
I am prolific. What do I do if I work on more than 10 projects in a year?
If you work on more than 10 projects in a year, here is a clever workaround, recommended by a user: create multiple blank copies of the Writing & Revision Tracker. Use the first 9 projects for individual projects, and then call the 10th project, "Other Spreadsheets." Do this on every copy of the tracker you're using. You can then enter your total project goals from however many other copies you're using, and enter your total word count and revision count from other copies into a single cell in the 10th project (say, January 1st, Writing (Cell T29) and January 1st Revision (Cell U29)) for accurate year totals. Or, you could add other spreadsheet totals in each month for accurate monthly totals. Play with it and see what works for you! (Thank you, Christi Snow!)