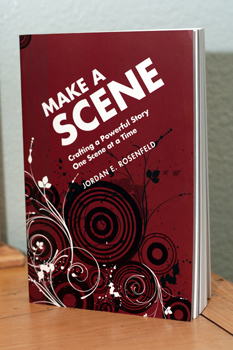 Throughout the month of November, in order to keep me motivated and writing at my best (despite the insane time constraints), I read Make a Scene by Jordan Rosenfeld. This book already came highly recommended by many writers, including my friends at Routines for Writers, so I knew it must be good. Well, it exceeded my expectations.
There are a million books out there about writing and I've read…a lot of them. There are books about craft, saleability, editing, plotting, character development and on and on. While I've found a lot of great information in all the books I've read, none of them has seemed more important to me and my writing than this book. Crafting a scene truly is an art and Make a Scene hands you the brush with the perfect color already on it. All you have to do is put it to the paper.
The last book I wrote was more of a fun project and a chance to see if I really could write a book. This time around, I wanted to do my best to write a book that could potentially get published. That makes for a completely different style of writing. I bought this book to help me in that goal and I feel like the author held my hand the entire way. She starts by explaining the different parts of a scene: beginning middle and end. From there she gets into the elements of a scene including setting, the senses, character and more. After that she gets down to specific types of scenes: suspense, contemplative, dialogue, action, etc. Lastly, she covers those other pesky things like point-of-view, characters and transitions. Each chapter includes specific details and examples taken from novels most of us are familiar with, which illustrated her points perfectly.
Personally, I feel like I've always been familiar with what makes a good scene. If, like me, you've been reading your whole life, I'm sure you know too. It's one of those things you can feel. While that helps me write most of the time, it isn't a flawless system. Sometimes I would get stuck in the middle of the scene with no clue what the missing piece was and that was where Make a Scene really helped. Each chapter provides specific breakdowns of what is needed for any type of scene so wherever I got stuck, I would just find the next step and keep going. Because as much as we want to kid ourself into thinking writing is an art that can't be restricted by rules, there really is a formula to writing a great scene. Rosenfeld makes you think about what your story needs and invokes questions you might never have thought to ask yourself.
Well, I'm no professional book reviewer (obviously) but seriously, if you write, this is one of those must-have books. Each year I learn more about becoming a better writer but never have I felt so equipped to write, and eventually, edit a great book. And the best part is that the layout of the book that makes it an awesome reference. This is definitely one of those books I'll be coming back to over and over again.