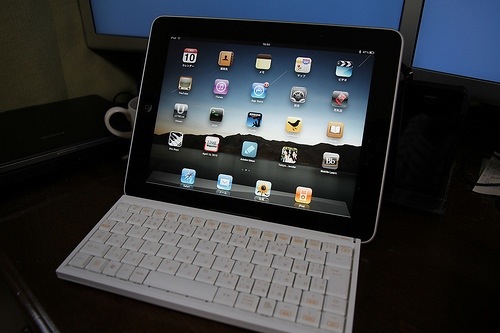 This past Christmas I got an iPad from my husband (as if I needed more reasons to love him). It wasn't completely out of the blue because we'd been looking for a new computer I could use for my writing. I'd been working on a Dell laptop but after only three years, the thing was already ancient, running so slow I couldn't accomplish anything and generally driving me insane. I needed an update badly.
I don't want to start a PC vs Mac debate here but I will say I've used Windows-based computers my whole life and I've never been fully happy. I wanted a Mac, but the biggest downside is always the price. I liked the idea of getting a tablet, but it would have been a pointless purchase if I couldn't accomplish at least 90% of my computer needs on it.
What a Writer Needs
Here's what I wanted out my new computer:
an organized writing program, first and foremost
full-finger typing
the ability to easily backup my work
the ability to track my writing progress with my Writing Progress Spreadsheet
easy access to all my social media
the ability to write and edit code for my website
the ability to easily blog and add pictures to those blogs
image editing software similar to the Photoshop program I use
ability to critique manuscripts for my writer friends
organization, organization, organization
As you can see, I didn't need much (*wink*). But after a lot of research, I found almost all of what I needed in an iPad. So my big Christmas surprise was getting it a day early. After four months, I have become very comfortable using it and have found very little I can't do.
Working on an iPad
If you've been debating getting an iPad or already have one but aren't sure how use it for your writing projects, here's how I make it work:
Writing: When I first looked, back in December, Scrivener, the writing program I have used and loved for years, was supposed to have an iPad version "soon"…whatever that means. While I waited, I downloaded Pages for $10 (the Apple version of Word). It's worked well since I've mostly been editing, but it is simple. I wasn't able to format my contest entries to industry standard so I had to switch to my laptop for that. Mostly, though, I missed having my index card outline/scene map (as opposed to having one big unmanageable document).

After four months of waiting for Scrivener, I couldn't take it anymore. I found Storyist ($10) that boasted similar features. After using it for a week, I can proudly say that I love it more than I ever loved Scrivener. It has all the features I actually use, rather than a bunch I don't, and I can complete actions in half the steps. The best part is that while it does have a scene breakdown so you can skip around as much as you like, it also compiles into a single document at the same time that I can easily email to my critique group in just a few taps.

Typing: I knew I would want a regular keyboard right from the get go and there are a lot of Bluetooth options out there. I opted for a case that propped my iPad up at a similar angle as a laptop and had a built in keyboard. For the most part, it works well (my only issues are with the case design itself–not the functionality). But since I prefer to use my iPad outside of the case most of the time, I have gotten used to the touch keyboard and now I use it more than the Bluetooth keyboard (doing it this way does come with the inevitable problem of autocorrect–I've come to live with it).
Backing Up: There are a lot of Cloud programs out there these days. I use Google Drive (free). I uploaded all of my writing files for multiple books and all my website files, and I still haven't used more than half of the free 5GB Google gives you for free. It automatically integrates with most file-producing apps (Pages, Numbers, Storyist, Photos, etc.) A couple of taps and your work is safe.
Spreadsheets: The official spreadsheet app from Apple is Numbers ($10) and it imports Excel spreadsheets wonderfully.
Social Media: If you have an smart phone, you're probably already using all the social media apps–now just imagine them bigger and better. Facebook, Twitter (Check out Hootsuite and Tweetcaster), Pinterest, and Goodreads. Also, the built-in Mail app works great. I was even able to set it up to send mail from my official website email address within the program. All free.
Coding: Since I have a browser on my iPad and I use WordPress to design my website, I'm able to access the code as usual. It's harder to maneuver around the code so I only do small updates this way. For more extensive changes, I dust off the old laptop.
Blogging: WordPress has a beautiful app that they update frequently. I can blog, add and update pages, watch my stats, and browse other WordPress blogs. Basically everything you can do in the desktop version, you can do in the app.
Image Editing: This is the only downside I have found for my purposes. There is a Photoshop Touch app, but it's new and needs a lot of work. If you just want to put simple text on a picture, this will work for that. If you want to add some effects, fine. But if you want to do any majors graphic work like I do, you will have to return to your computer for that. But once the image is done, send it to your cloud and you will be able to put the image wherever you want from there.
Critiquing: Okay, this is the coolest thing in the world. I'm sure by now we've all used Word to track changes, but what if you could mark up your friends' manuscripts just like you were doing it on paper? iAnnotate ($10) gives you that ability! Mark up the story, then email it out right from the app.
Organization: If you're going to be a successful writer in this day and age, you're going to have to be organized. I downloaded PI Go! ($5), a calendar and task manager that syncs with Google Calendar and Tasks to track my writing, blogging, and event schedule. I also sync the built-in Mail app with Gmail and use the folders to organize emails by content. I have files in Google Drive for all the agents I want to query. And the fact that everything links together makes it so simple to use.
Other apps I love: Flipboard, Wattpad, Dictionary.com, Kindle, and iTunes, of course!
I know this has been a long post but I hope I've provided you with lots of tools and ideas to make your iPad work for you. I have come to love mine more than I thought I could, and I don't think I'll be able to go back. The ability to throw it in my purse (figuratively speaking) and write in any comfortable position are just added bonuses.
Do you work on an iPad? What tools do you use? Do you have any questions about using an iPad for writing or on any of the apps I listed?