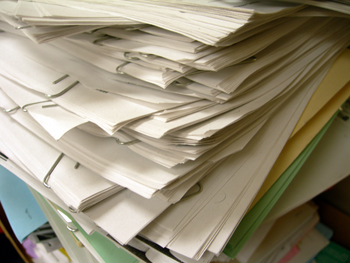 National Novel Writing Month is only a few days away and with such a big project looming, it's easy to become overwhelmed. How do you even begin to figure out your characters' motivation, determine your plot structure, create other worlds and research the facts that will make your story tick? The answer is simple: you don't. Even I, the OCD planner, have been turning away from writing advice because I don't want all that information swirling around in my head, nagging at me as I try to punch my first draft out in record time. I don't want to be so worried about preparing that I feel shocked when the clock strikes 12:00 a.m. on November 1st and I actually have to start writing.
Helpful Advice
There are thousands of Wrimos that literally sit down on November 1st and just start writing with no idea what they're going to write about. It's not the easiest route to take but nonetheless, it happens. I'm pretty sure the NaNo King, Christ Baty, himself writes this way. And many of these people cross the finish line, no problem. If, like me, you need a little more forethought than that, here are a few blog posts that will help you on your way without being overwhelming. In fact, you could complete everything on this list in one afternoon.
The 5 Things You Absoutely Must Know About Your NaNo Novel Before You Start Writing by Jennifer Blanchard at Procrastinating Writers.
When it comes to preparing for NaNoWriMo, keep it simple. Character arcs, subplots, word choice–those things can all be ironed out on the second draft (if you even want to do a second draft–there's nothing wrong with writing just for the experience). Prepare as much as you can without feeling overwhelmed and then, when November arrives, give yourself permission to do it all wrong. It's impossible to put out so much volume and expect it to read like the next New York Times Bestseller. In fact, that's the whole point of the event–to let loose and just write. Focus on the story and most of all, have fun with it!