If you've ever felt that little kick inside you, experienced the nerve-wracking and enchanting moment of child birth, wiped spit-up off your shirt in the middle of the grocery store, leaked milk through your bra in public without realizing it until you got home, cleaned poop out of the tub or blinked back tears while watching your baby fall asleep in your arms…this one's for you. You are officially a card-carrying member of The Stretch Mark Club.
Because motherhood is a club. You sign up as soon as you put your name on the birth certificate and you pay your monthly dues in diapers, the word "no" and, what we'll call "parental advice," which is really just whatever sounds good at the time and keeps your child a virgin for one more day. When you pass another mother in the store, you nod your head to let her know her baby will stop crying eventually and she nods back to say, "I'm not looking forward to the teen years." And then you both smile because, really, it's the best job in the world.
Almost eighteen months ago, I became a member myself. I gave birth to a little girl who has helped me find adventure and beauty in every moment. I have learned so much in the past eighteen months: patience, putting someone else's needs before my own, letting go of control. More than anything else, though, I learned parenthood is hilarious. What else can you do but laugh when you're elbow deep in a diaper and miles away from help, when you realize you're out of baby wipes? Or when you have your first "is that chocolate or poop" moment? Or, when your child, that you love so much you'd die for her, throws her dinner on the floor and smiles? You laugh. Because at the end of the day, no matter how many "shitty" moments you have, you wouldn't trade it for anything.
The Stretch Mark Club started as a hastily scribbled note about a run-in with a very opinionated mother and my own experiences and worries as I navigate motherhood. It evolved into the stories of my friends, my parents, my family and you. The funny and traumatizing and breathtaking moments of parenthood have inspired me to write this story and I hope every mom will find a little bit of her journey in these posts.
The Stretch Mark Club is dedicated to my daughter for her infinite inspiration and to mothers everywhere–official members of the not-so-secret club.
The Stretch Mark Club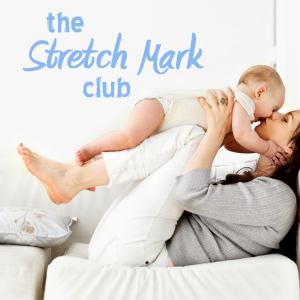 Three women, four babies, one week apart. Shea, married just a few months, is still learning about life as a wife when Zoe is born, and hopes that her husband didn't marry her just because of the two pink lines. Riley's ex-boyfriend disappeared as soon as he found out she was pregnant, leaving Riley to raise Alexis on her own. Jasmine, the mother of twins, Xavier and Andrea, has been married to Hector for years but despite his initial excitement to have a baby, he refuses to change a single diaper. Follow Shea, Riley and Jasmine as they navigate the world of new motherhood.
THIS STORY IS COMPLETE