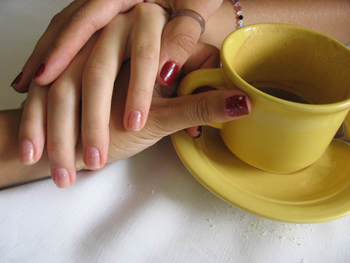 One of my long-outstanding goals has been to join a writing community that could foster my growth as a writer. As I've said before, finding a writing home in my area has been difficult. While I am a part of a writing group, none of us write the same genre, which makes it difficult to get focused feedback. I would love to find a "real life" support system but since that isn't feasible for me, I recently turned to the world of online writers. It was something I'd wanted to do for a while but it came down to finding the right group for me, something I hadn't yet encountered.
Or maybe I had, I just wasn't ready to accept it.
Facing my Fears
About a month and a half ago, Amy Atwell blogged on Writer Unboxed about a writing community she started a few years ago that began as a small group of only 12 writers and has since grown to over 250 writers. The groups are still intimate, topping out at 50 writers per loop, and they are genre specific for romance and women's fiction writers. For one reason or another (I don't know if I'll ever know why) I closed the window without a second thought and went on with my life.
And then, a couple of weeks ago, the urge popped up again. I was setting my 2011 goals and supremely excited about them but as I'm sure you know, being excited about your goals is never as fun as when you have someone to be excited about them with you. And that's when I remembered Amy's blog. I pulled it up, read it again and realized it sounded perfect for me. I wasted no time in sending in my application. A mere 24 hours later, I had my response and it was the question I had been asking myself for nearly a year.
The WritingGIAM groups are split up into two categories–the pro or pro equivalent (those who have completed a manuscript and are actively seeking publication) and the GoPros (those who are still working on their first manuscript). I have completed a manuscript (and hoping to complete another one very soon!) but I admitted, I'm not actively seeking publication right now. So Amy gave me the choice–either join the pro group and work hard to keep up or join the GoPro group. I set up a coffee date with my best friend immediately.
I love that woman. She listened to me whine for at least half an hour. Me: I want to join the pro group but what if I don't fit in? What if I can't keep up? What if I feel like a hack? What if I don't have the time? She nodded and smiled, probably thinking, wow…she really is crazy–it's not just a Tuesday thing. Finally, when I'd told her every reason I shouldn't join the pro group, she said: what if this is a test? Not in a "Amy's trying to see how committed to your writing you are" way (although maybe she was 😉 ), but in a "this is the universe asking you if you're finally going to step up and take your writing to the next level" way.
Oh.
This was what I'd been wanting, right? So why was I still hesitating? Why was I still telling myself I wasn't ready, that I wasn't good enough? I still don't know the answers to those questions but I did know the answer to the question the universe was asking. I was ready to take my writing to next level. If not for me–if I still wasn't ready or still not good enough–I wanted to do it for my writing. I know I have the potential to write an amazing story and my ideas deserve that much. I went home, responded to that email and by the end of the night, I was a pro member.
Accepting the Challenge
Deciding to take that next step is never easy. It's moving out of your comfort zone and that's always scary. But as the saying goes, if you always do what you've done, you'll always have what you've had. If you want to make progress and you want to grow and you want to get better, you have to do something new. You have to take that next step.
You can do it.
So as you finalize your 2011 goals and resolutions today and tomorrow and we ring in the new year, take one last look over them and ask yourself if you're moving out of your comfort zone and if you're stepping toward your ultimate writing goal, whether that's becoming a published author or being the best writer you can be.