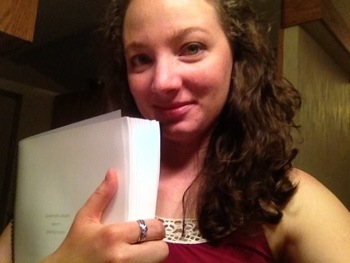 That's right, today is my 27th birthday. I'm not yet old enough to hide it or lie about it! So far, today has been a wonderful day, full of sweet birthday messages from friends and all the gifts every writer hopes for: coffee, chocolate, and books!
But the best gift is the one I gave myself: a completed Draft 3 of my novel! (pictured left) Yesterday, I finished the "final for now" edits and printed the whole thing out, then ran to Kinko's to have it bound. This is the first time I've printed it out after working on it for 3 years (this draft for the past 6 months) and it feels so good to finally have something to hold in my hands and say, "I did this!"
Of course, a couple of weeks ago, I was not so optimistic. Actually, it was exactly two weeks ago today that I still had 15 scenes of major edits to do and at the rate I had been working, it would have taken me three or four more weeks to finish them. Not all that long, considering, but after working tirelessly on this version of my story for a year and a half, I was positively burned out, not moving forward at all, and sure that another month of editing before I could even step back and look at what I'd created would kill me.
So I made a decision. Knowing that my NaNo-trained brain works better under pressure, and more than ready to get this thing done already, I set a crazy goal to finish those 15 scenes in ten days. And then I got to work. As usual, once I put my mind to it, the words came flooding in and the story lines practically tied themselves up. I was flying right along until the final day when–as if the universe was testing just how bad I wanted it–my entire family came down with food poisoning and I spent the next few days nursing them, cleaning up after them, and…well, I'll leave out the gory details. But finally, on Tuesday, still overcome with nausea, I wrote the last words of my rewrite!
Today is the first day I feel like myself again and the first day I have that big stack of paper sitting on my desk, waiting for me to do something with it. I wish I could say it was ready to be shipped out, but alas, it is almost there. I feel like that is the motto of my writing career. It has been particularly hard the last few months as I watch so many of my friends getting their publishing contracts and landing their agents and here I still am, picking away at the same manuscript. It's not for nothing, I know. I have learned so much while writing this manuscript that it still astounds me. But this final stretch has been the hardest part so far. I just want to be there, you know? Almost there…almost there…
So tomorrow I start Draft 4. Now that the story structure is complete and everything is there, this draft will be a matter of cleaning up things on the scene level and I know (I hope) it will go much quicker. I plan to have it finished before I go on vacation a month from now. Then, after a couple of weeks away, I will do a final pass for continuity and flow before I finally–finally!–send it off to beta readers!
Thanks to all of you who have been so kind to think of me on my birthday, and I look forward to sharing another year of writing adventures!