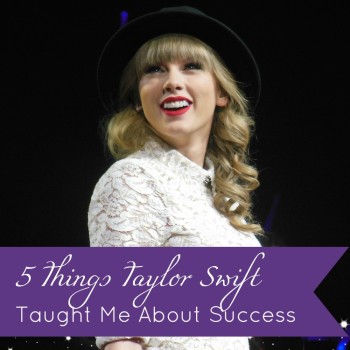 Okay, I admit it. I'm a Swiftie. Really, is it all that big of a surprise? (If you follow me on Pinterest, probably not.) She's a storyteller too, and she writes these beautiful, emotional stories about longing and heartbreak–things I often write about in my own books. Probably 75% of my writing playlists are Taylor Swift songs, but it isn't only her music I admire.
According to Forbes.com, Taylor Swift, at the age of 25, is worth $64 Million and is ranked at #18 on Forbes's Top 100 Celebrities. If that's not impressive, I don't know what is. On top of that, though, she still manages to connect directly with her fans on a regular basis and she still makes her art a priority. I'm sure I'll never see those kinds of numbers next to my own name, but as a creative entrepreneur, there's a lot to learn from Taylor.
What We Can Learn From Taylor's Success
As I focus on following my dreams and getting my business up and running, here are some things I've been keeping in mind, and that you might want to think about in your own work:
1. LOVE WHAT YOU DO
There is absolutely no question that Taylor loves what she does. It's been a passion for her since she was a child and no matter how much else she has going on, she's always writing new songs. I once heard in an interview that she'll write upwards of 100 songs for every album of 12-15 songs that she puts out. She loves touring, she loves performing, she loves connecting with fans–you can see it all over her face. When you have that kind of passion for your work, you never work a day in your life. It's that kind of love that inspires people and draws them to you, and when you love something that much, you put everything you have into it. Success can't help but follow.
2. BE GENUINE
Everything Taylor does absolutely oozes Taylor. When she first started writing songs, she even included specific names of the people she wrote her songs about. You'd think that wouldn't attract so many fans–I mean, Drew is not the reason for the teardrops on my guitar–but people flocked to her music because it was real. We all had a Drew in our lives, whether that was his name or not. To this day, she unapologetically continues to write songs about the people in her life and she only becomes more and more successful because it's honest. And then she does things like photobomb family photo shoots and bake cookies for interviewers who come to her apartment. That kind of sincerity makes people want to be a part of your life and what you're doing.
3. YOU NEED A TEAM
One of my favorite things about listening to Taylor's new album, 1989, was listening to the tracks at the end where she talks about her writing process and gives us glimpses into how a song comes together. The thing that really struck me about those tracks was how she worked with her team. It's clear that she's very open to getting input from others, learning, growing, and understanding that success doesn't happen in a vacuum. Of course she needs help booking tours and marketing and managing her money, but she even works with people on her art. A team challenges, supports, and keeps you focused and we all need that every day to be successful.
4. HAVE A CONSISTENT MESSAGE
I bet if anyone was to stumble across one of Taylor's writing notebooks, just be reading the lyrics, they'd be able to identify the owner. Taylor writes about love and heartache–topics that are forever sung and spoken about but somehow never get old. I, for one, love that when a new Taylor album comes out, I know I'm going to get more of what I already love, and that's what keeps me coming back to her music. Her music videos, her website–all of it very clearly her brand. That kind of specificity, pulling from the genuineness of you, helps people relate to you and makes people think of you when they're looking for work like yours.
5. DON'T BE AFRAID TO REINVENT
I admit, no matter how much I love Taylor, I was hesitant about her genre change from country to pop. It took me a few singles to get used to the idea but eventually I realized, that no matter how much I love her consistent work, we all get tired of the same exact thing over and over again. There's no challenge for the creative or entrepreneur and there's no challenge for the fan or consumer. Pushing yourself to grow keeps you inspired and it keeps the people who love your work inspired. And as long as you continue to bring your true self to your work, people will want to take that journey with you.
Over the years, I've enjoyed watching Taylor Swift's career grow, but it isn't only Taylor who does these things well. Anyone who makes these attributes a part of their business has a fan in me and those are the kinds of people I hope to attract to my work by making these five things a part of my business.
What kinds of attributes attract you to an artist or a business? Which ones do you make a priority in your own work?
Photo by Jana Zills